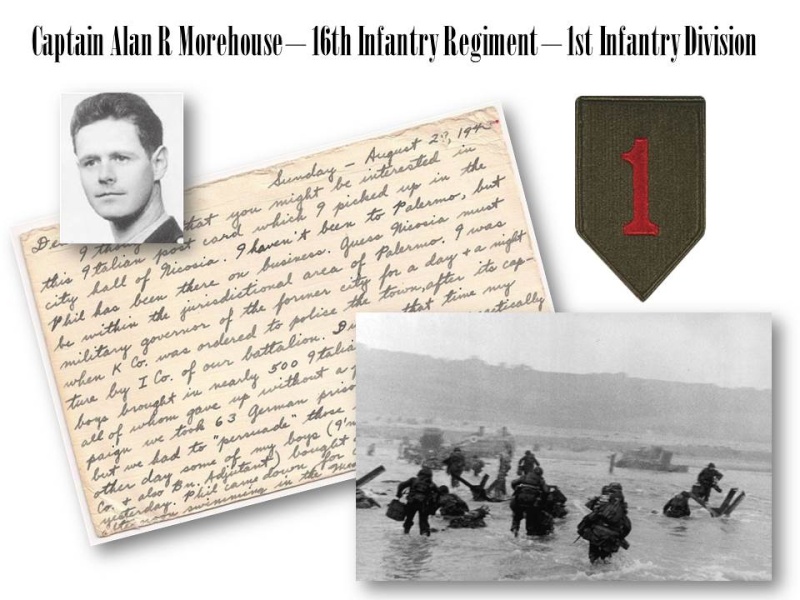 Cette lettre a été écrite par le Captain Alan R Morehouse originaire de Darien dans le Connecticut. Les racines de sa famille dans ce village remontent à la Civil War. Son grand-père, Alfred Morehouse était un Private dans la 17th Connecticut Volunteers. Alan est né en 1915 d'Harold et Ruth Morehouse. Il avait deux sœurs : Mary et Elizabeth ainsi qu'un frère, Philip. Son frère Philip a été diplômé de la Darien High School en 1937 la même année durant laquelle Alan son frère plus âgé sera diplômé de l'University of Connecticut.

Philip ainsi qu'Alan rejoindrons tous les deux l'armée et la même unité à savoir la 1st Infantry Division et notamment le 16th Infantry Regiment. Philip sera platoon leader et sera d'abord assigné à l'administration du personnel faisant toute sorte de papier pour l'armée et participera par la suite à des missions de combats sur le front en tant que leader. Alan Morehouse sera quant à lui fait d'abord First Lieutnant puis Captain gérant une compagnie de 10 hommes aussi bien en Afrique du Nord, qu'en Sicile et en Europe. Il servira sous le matricule O-351409.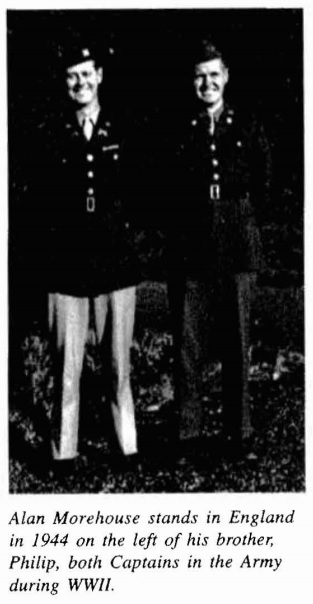 Alan Morehouse connaitra ses premiers combats en Afrique du Nord de Novembre 1942 à Mars 1943, période pendant laquelle il sera l'executive officer de la Company K – 3rd Battalion – 16th Infantry Regiment de la 1st Infantry Division. Il sera blessé pour la première fois aux alentours de Mateur en Tunisie et refusera de quitter son unité. Il recevra une Bronze Star Medal pour son action héroïque le 23 Avril 1943

Il se remettra à temps de sa blessure et participa à sa deuxième invasion en Juillet 1943 en Sicile. Lors de cette campagne, Alan géra avec succès sa compagnie jusqu'à une colline à Troina qui avait entravé l'avancée des troupes alliées pendant plusieurs jours. Son exploit sera même raconté dans un article pour le Time Magazine du 23 Août 1943 :

Night Vigil. At 9:30 Captain Alan Morehouse, once a schoolteacher in Darien, Conn., led 90 men of K Company out on the road and headed over the slope of our hill down into a ravine and up toward another hill in front of Troina. The men bunched up on a hillside before the culvert and each one paused to get at a distance from the man ahead of him. There was a dim crescent moon overhead, shrouded by wisps of clouds. As the soldiers paused in the column, I said to them: "How you doin'?" A big fellow sighed and answered: "This is tough. Can't sleep in nighttime for moving. Can't sleep in daytime for shelling." Around midnight, Horner took his unit out of the culvert and moved farther uphill, preparing to follow Morehouse if he was successful. We had not been long in our new spot, and had just set up our own telephone and radios, when a voice called us and said that a shell had landed squarely in the middle of the culvert we had just left. The Dawn Attack. We sort of fitfully dozed for a while. At 5 o'clock the snapping of rifle bullets coming across our slope woke me and I heard Chuck talking toMorehouse on the phone. Morehouse was nowhere near the top of his hill objective, and suddenly we realized that another daytime fight was in progress. The news shook us a bit and Chuck's voice was irritable as he said: "Move out, goddamit. Get that machine gun before it gets light or they'll be on us again." Half an hour passed .during which dawn crept over the hills. Morehouse again reported that he had made no progress, and again Chuck Horner spoke to him: "Listen, Al, you got 90 rifles and machine guns. You going to let one machine gun hold you up? We're not getting anywhere by not moving. We'll be here another year at this rate. Why can't you get 'em going? Open up with every rifleman. They can't hit every man there." We started walking directly up the road until we came to a narrow pass at the very top of the hill and looked out at the battle scene below us. On our right was a high long ridge that led straight up to Troina. Lieutenant Robert Cutler was about to lead our L Company in an assault on the lower slopes of this ridge. On our left was another hill, half green where grape vineyards had been planted and half yellow where wheat was planted. Up this slope Morehouse and K Company were now attacking, and we could see their red tracer bullets shooting very prettily into the green of the grape vines. Thrush! Wham! a shell with terrific velocity flew over our heads through the pass.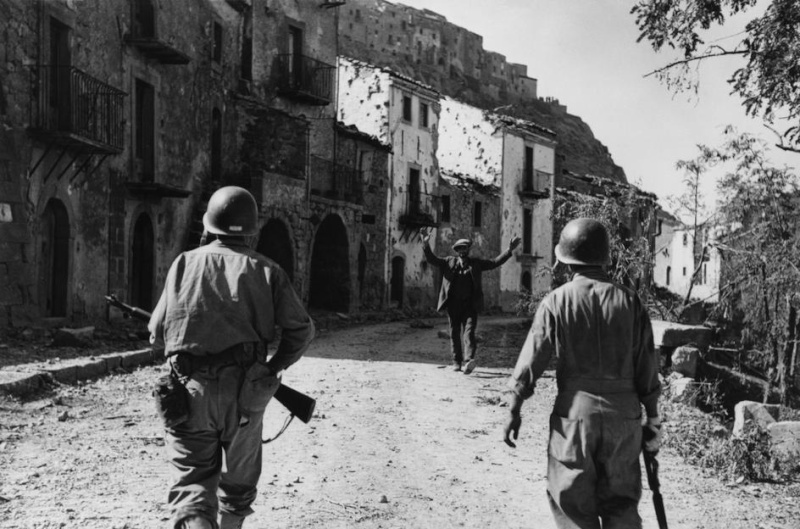 Célèbre photo prise à Troina en 1943 par Robert Capa
Il écrira la lettre qui suit seulement six jours plus tard. Cette lettre, comme il le précise lui-même à l'intérieur, est une lettre italienne qu'il a piqué dans un hall lors d'une brève rencontre avec le Gouverneur Militaire de Nicosie en Sicile. Elle porte le marquage du quartier général italien de Palerme. Il précise également que sa compagnie a réussie à faire 63 prisonniers allemands et environ 500 prisonniers italien durant la bataille.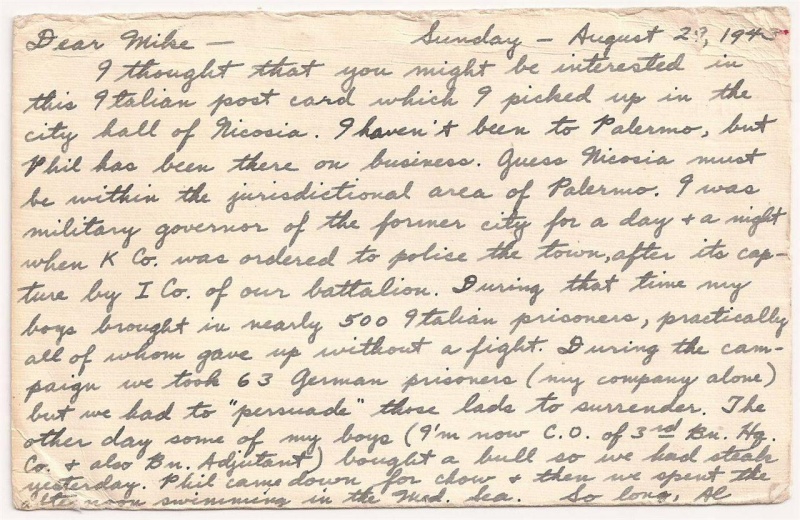 Par la suite, à la fin de l'année 1943, Alan Morehouse et son unité retournerons en Angleterre dans le but de s'entrainer et de se préparer pour le D-Day.

Le Captain Alan R Morehouse fera parti de la première vague d'invasion sur Omaha Beach et sera tué dès le début de l'invasion aux alentours de 06h30 face à Saint-Laurent-sur-Mer sur le secteur d'Easy Red, là où Robert Capa effectuera son célèbre reportage photo. Des soldats dirons par la suite à son frère Philip qui débarqua 5 jours plus tard que se trouvant dans l'eau en train de commander son unité, Alan sera une première fois blessé à la jambe, puis, en le rapatriant sur le sable il recevra une balle dans la tête qui lui sera fatale. Le Lieutenant Karl E Wolf donnera une autre version et dira dans un témoignage qu'Alan sera directement touché en pleine tête dès sa descente de la barge de débarquement. Alan sera décoré d'une Silver Star de manière posthume pour son action ce 6 Juin 1944.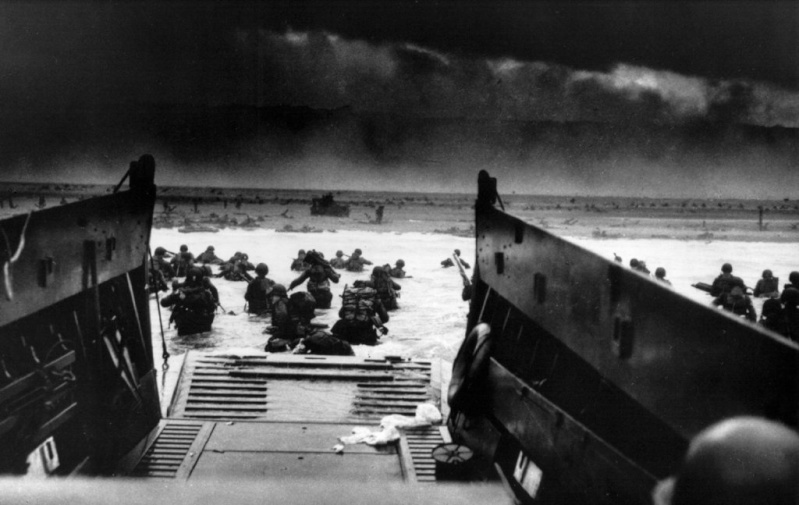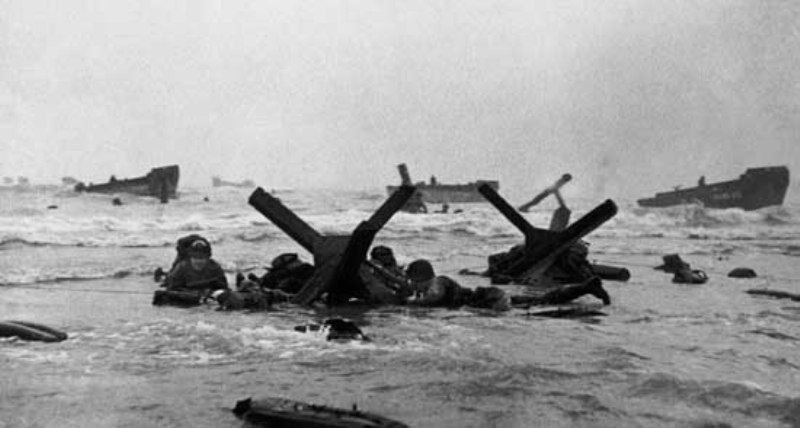 Son fils Randy, qu'il n'aura jamais vu, se rendra par la suite lors du 50ème anniversaire du débarquement en Normandie sur les traces de son père avec son oncle, Philip.